School of Nursing named to Top 10 in "U.S. News & World Report" rankings
Share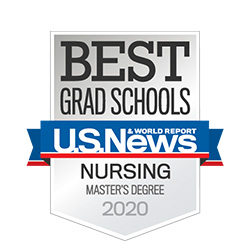 In the U.S. News & World Report annual rankings of graduate nursing programs released today, Vanderbilt University School of Nursing has risen to the No. 5 rank for its Doctor of Nursing Practice program and to No. 8 for its Master of Science in Nursing program. Those positions are the highest rankings VUSN has received and mark the first time Vanderbilt has been ranked a national Top 10 best graduate nursing program.
"We're thrilled with Vanderbilt School of Nursing's significant rise in the U.S. News & World Report rankings," said Linda D. Norman, VUSN dean and Valere Potter Menefee Professor of Nursing. "It's rewarding that the hard work by our faculty, staff, students and alumni over the past several years is being recognized."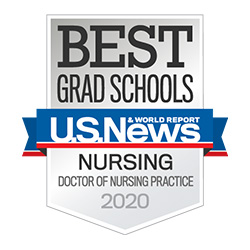 Norman announced the school's achievement in a video sent to VUSN faculty, staff, alumni and students Tuesday, March 12, after the news was released by U.S. News & World Report.
"The rankings speak to the quality of the school and reflect the esteem our peer institutions have for VUSN and its graduates, faculty, scholarly work and innovations," she said, noting that 40 percent of MSN and DNP scores come from peer assessment, more than any other factor evaluated.
In addition to the overall rankings, six of VUSN's specialties were recognized as being among the Top 10 best in the nation. The Family Nurse Practitioner and Psychiatric-Mental Health Nurse Practitioner specialties are ranked second. Adult-Gerontology Acute Care Nurse Practitioner, Adult-Gerontology Primary Care Nurse Practitioner and Nursing Informatics are ranked third. The Pediatric Primary Care Nurse Practitioner program is in the fourth spot, up from eighth last year. Nurse-Midwifery programs were not ranked this year, so VUSN's Nurse-Midwifery specialty remains tied as No. 1 in the country.
To determine scores for nursing schools, U.S. News & World Report uses a ranking methodology based on a weighted average of 14 indicators. The data comes from statistical surveys sent to administrators of 584 accredited schools of nursing which offer master's or doctoral programs. Specialty program rankings are based on assessments by nursing school deans and deans of graduate studies who identify up to 10 schools offering the best programs in each specialty area. The surveys and assessments were conducted in fall 2018 and early 2019.
In addition to peer assessment, schools are evaluated on factors that include research activity, faculty credentials, faculty participation in nursing practice and the percentage of faculty members with significant achievements. The schools' acceptance rate, program size, faculty-student ratio and students' undergraduate GPAs are also considered. Individual specialty scores are based completely on peer assessment.
"Being named one of the nation's Top 10 nursing schools is a great accomplishment and opportunity," Norman said. "It is confirmation of the quality of our education, students and faculty. It only reinforces our commitment to excellence and innovation in educating the nurse leaders of the future while seeking solutions to health care challenges."
Full U.S. News & World Report Best Graduate Nursing School rankings