School of Nursing celebrates 2016 Alumni Award recipients
Share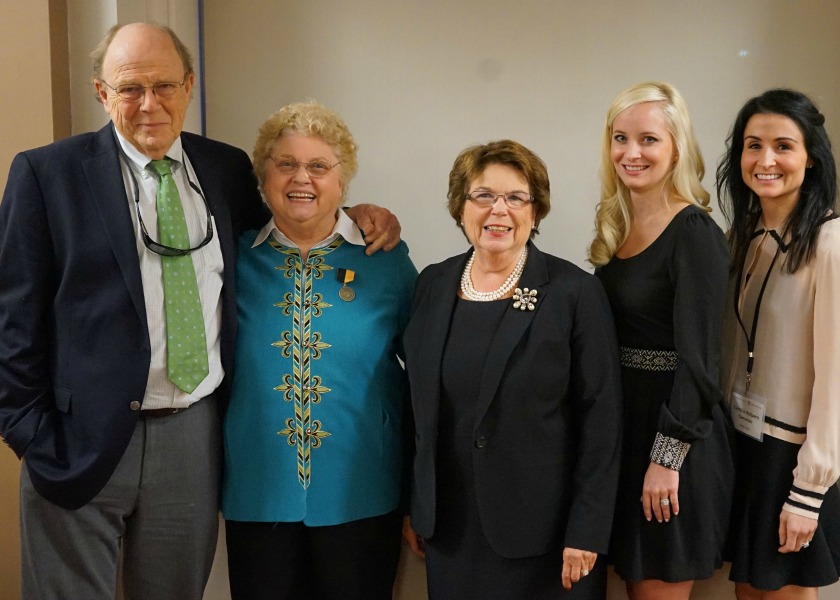 The Vanderbilt University School of Nursing presented three outstanding alumni and a legendary Vanderbilt professor with VUSN alumni awards as part of Reunion 2016. Britney Broyhill, MSN '08, DNP '13, BA '06; Cynthia Cameron, MSN '10, BS '03; Sally Yeagley, BSN '66, MSN '86; and Vereen Bell, professor of English, emeritus, accepted the awards in ceremonies during Vanderbilt's Reunion weekend in October.
Nominations for the awards were made by School of Nursing alumni and faculty; recipients were determined in a vote by the Alumni Association Board.
Britney Broyhill, ACNP-BC, received the Alumni Award for Excellence in Nursing. The award is presented annually to a School of Nursing graduate who is a national or international leader in nursing issues. Broyhill is a nurse practitioner and fellowship director with Carolinas HealthCare System, where she has developed the largest post-graduate transition-to-practice NP training program in the country. She was also instrumental in creating the post-graduate APRN fellowship credentialing body, the Association for Post Graduate APRN Programs. She has published extensively, speaks at conferences, has testified before the National Institute of Medicine regarding the Future of Nursing report, and actively lobbies for full practice authority in North Carolina.
The Alumni Award for Clinical Achievement was presented to Sally Yeagley for outstanding contributions in clinical, patient-centered practice. Yeagley's long career in obstetrics and women's health made a lasting impact on Tennessee. After obtaining her bachelor's degree at VUSN, she joined a private obstetrical practice in Nashville, and, as a full partner – unique at the time – implemented her vision for patient-centered maternity care. She was responsible for other initiatives, such as allowing children to be present in the birthing room (a move approved by the Tennessee State Regulatory Board), and was instrumental in the opening of Tennessee's first birthing room. Yeagley is credentialed in reproductive health and specializes in the care of infertile women and women who have experienced sexual abuse. In bestowing the award, VUSN Dean Linda Norman applauded her for dedication to a vision, the ability to sell that vision to colleagues at all levels, and the capacity for making the vision a reality.
The Alumni Association President's Award of Distinction, given to an alumnus for distinguished contributions to nursing and the community, was presented to Cynthia Cameron. Cameron, FNP-BC, has practiced as a nurse practitioner in oncology, primary care and preoperative testing, and has distinguished herself in providing for her patients' emotional well-being as well as their physical care. Since 2012, Cameron has volunteered to treat wounded military veterans at Passport Health in Bethesda, Maryland. She currently works for the Dermatologic Surgery Center in Washington, D.C. One of her patients there said, "She was so nice, friendly and reassuring, that I immediately trusted her diagnosis." Earlier this year, Cameron was recognized by Washingtonian Magazine as a finalist for its Excellence in Nursing Award.
The Friend of Nursing Award recognizes significant local or national contributions, or both, to the profession of nursing from an individual who is not a nurse or Vanderbilt University School of Nursing alumnus. The 2016 honoree is Professor of English, Emeritus, Vereen Bell. Bell has taught at Vanderbilt since 1959 and remains one of the university's most revered professors. Bell's influence on the School of Nursing includes teaching Advanced English to members of the VUSN Class of 1966. One nominator said the course was instrumental in teaching student nurses to think critically. "He was the epitome of the reasons we were at Vanderbilt – intellectual stimulation and a beacon for where we might go in the world," she said. Another Class of 1966 member said, "In my two working careers and my personal interest, my working and communicating have benefitted from those early lessons in Dr. Bell's class." A third nominator added, "I often reflected on Dr. Bell's uncompromising expectations, which I tried to emulate when I was teaching nursing students."
Image:
Three accomplished alumni and a legendary Friend of Nursing were honored during Reunion 2016. From left, Professor Emeritus Vereen Bell; Sally Yeagley, BSN '66, MSN '86; Dean Linda Norman; Britney Broyhill, MSN '08, DNP '13, BA '06; and Cynthia Cameron, MSN '10, BS '03.
Photo: Sara Putnam