Love of nursing inspired Doris Billhorn to go back — and give back — to school
Share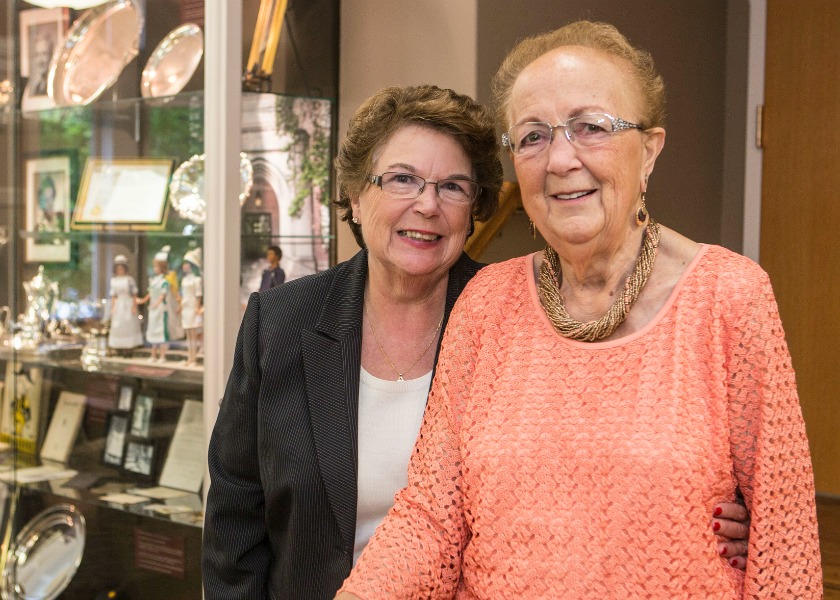 It's not unusual for alumni to come back to the Vanderbilt University School of Nursing and show their children where they earned their degree. But when Doris Billhorn, MSN'92, did that recently, she added something special: a financial gift to the school for scholarships.
"I got my chance at Vanderbilt through scholarships, through help from other people who did what I'm doing now," she said. "This is my chance to pay back what was given to me."
Billhorn was in her 50s when Vanderbilt gave her that chance. "Mom had six children before she got her high school degree," Billhorn's son John said. "She raised them all until they were in school, then she went back and got her diploma in order to even start a nursing career."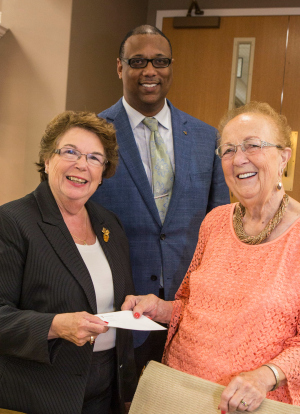 She took some night classes at nearby Illinois Valley Community College. "My husband was a farmer," she said. "I had to do some talking because nobody [I knew] ever went back to school. It was like, 'Who do you think you are?'" Then the school's nursing program drew her attention.
"That sounded like something I would enjoy so much. I'd always liked medical things and so I ended up getting my nursing degree," she said.
When a nursing school classmate invited Billhorn to visit her in Nashville, she went. "Things weren't going as well as I would have liked at home," she said. Her friend encouraged her to move to Nashville and start anew. "All of a sudden we just had the pickup truck loaded and tied down full of stuff," she said. "I had a job lined up at Centennial, so I came down here and the whole world just opened up."
After a few years of working as a floor nurse, Billhorn was ready for a new challenge and at 52, applied to the Vanderbilt University School of Nursing's master of science in nursing program. "I've never hated the idea of going to school," she said. "I liked the idea of learning more and being able to have more responsibility. And I like to be the boss."
During the six semester program, Billhorn juggled working, studying and going to school. She managed by taking classes during the day and working as a home health care provider at night.
Billhorn chose to concentrate on adult geriatrics. "I remember saying, 'I think I'll go into that geriatric program and get the geriatric nursing straightened around, so that it'll be ready for me when I get there,'" she said. She loved geriatric nursing, Billhorn said. After earning her MSN, she worked in various nursing homes, including the Blakeford at Green Hills, and later directed nursing in adult facilities in Illinois when she moved nearer her children and grandchildren, three of whom have followed her into nursing.
One aspect of leadership that she particularly enjoyed was the opportunity to teach. "I taught CNAs (certified nursing assistants). CNAs did the load of work with our people in the nursing homes," she said. "Teaching them how to do that carefully and how to respect people was very important to me."
"Those were some busy days," she said, of juggling administration, teaching and patient care. "I had to be out on the floor to know what was going on, and sometimes out on the floor teaching. I liked that part of it more than I liked the administrative part."
Now retired, Billhorn wanted to give a gift to VUSN for scholarships that would aid future nursing students. She also had some sage advice for others contemplating career changes or considering more education.
"I want people to know that they should not be afraid of stepping into new fields if they're interested in them," she said. "They'll find that they will feel so much better about themselves. And it will be fun."
Top Image:
From left: Dean Linda Norman welcomes alumna Doris Billhorn, MSN'92, back to VUSN.
Right Image:
Doris Billhorn (right)  presents Dean Linda Norman with a check to be used for scholarships. Associate Dean for Development J. Steven Barnes (center) helped coordinate Billhorn's visit.
Photos: Anne Rayner