Matter of the Heart
Share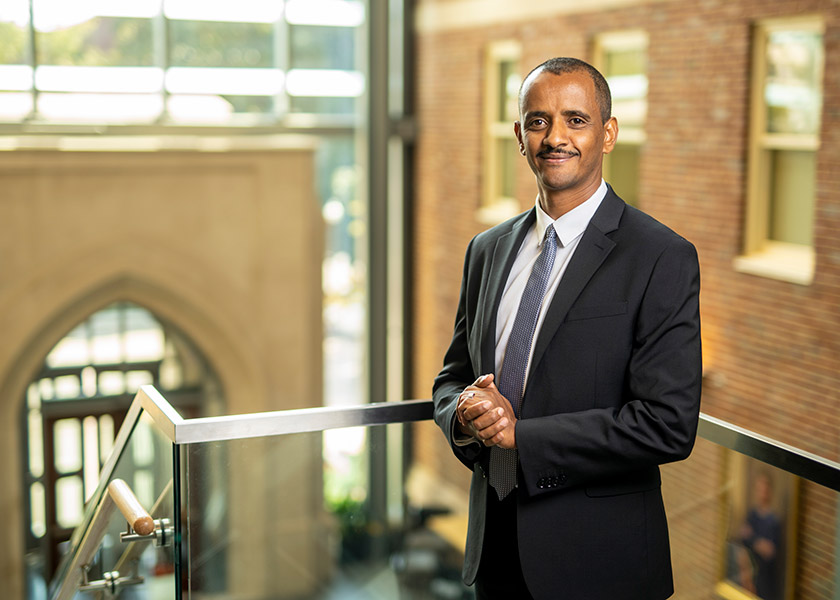 Early in his career, as Mulubrhan F. Mogos cared for fragile babies in a neonatal ICU, he questioned whether the mother's experience during pregnancy and delivery could provide clues to what went wrong, setting him on a path to study the long-term impact of cardiovascular disease on mothers and babies.
Mogos, who joined the Vanderbilt University School of Nursing last fall, is a rising star in the study of cardiovascular health conditions during pregnancy and associated adverse maternal-fetal health outcomes. His research has received local and national funding including an R01 investigating the role of ultrasound technology in predicting preterm birth, as a co-investigator. In 2017 he earned a diversity fellowship supported by the National Institutes of Health and the National Heart, Lung, and Blood Institute.
His most recently published research found that the first six weeks after delivery are the most dangerous for women at risk of heart failure, when at least 60 percent of pregnancy-related heart failure hospitalizations occur. Heart disease, including heart failure, is a leading cause of maternal mortality and morbidity in the United States.
"The United States is the place to study this because of the abundance of resources," Mogos said. "The goal is to develop effective interventions that are scalable on a national, and even global, level."   
Mogos says pregnancy presents a unique window of opportunity, as most women have regular prenatal checkups. "It's a chance for us to closely monitor women who are at risk, and encourage heart-healthy lifestyles while educating women about symptoms to watch for," he said.
"Women are typically discharged a few days after they give birth and not seen by health care providers until six weeks later, which means serious symptoms might be left unrecognized and untreated. Concerns of new moms—fatigue, shortness of breath—are often waved away even
by providers.
"The lack of adequate surveillance during the postpartum period is one of the potential reasons for the unacceptably high rate of maternal morbidity and mortality in the United States."
Even tennis great Serena Williams, who recognized signs of a recurring pulmonary embolism after the birth of her daughter, had to repeatedly challenge her hospital caregivers to get the right diagnosis and care.
Mogos plans to use big data to study the health trajectories of mothers who have had preeclampsia during pregnancy, looking at changes in their cardiovascular system along with measuring the impact of interventions such as nutrition education, emotional support and exercise work.
Mogos most recently was on the faculty at the College of Nursing at the University of Illinois in Chicago. He moved to Nashville in July 2019 with his wife and his mother. He finds himself delighted by how friendly Nashville is. "Everyone says hi," he noted. "We were working in the yard, and a neighbor came over to offer us help. I'm really enjoying that."
by Jan Read
Image: John Russell