School of Nursing graduates inspire optimism about health care's future
Share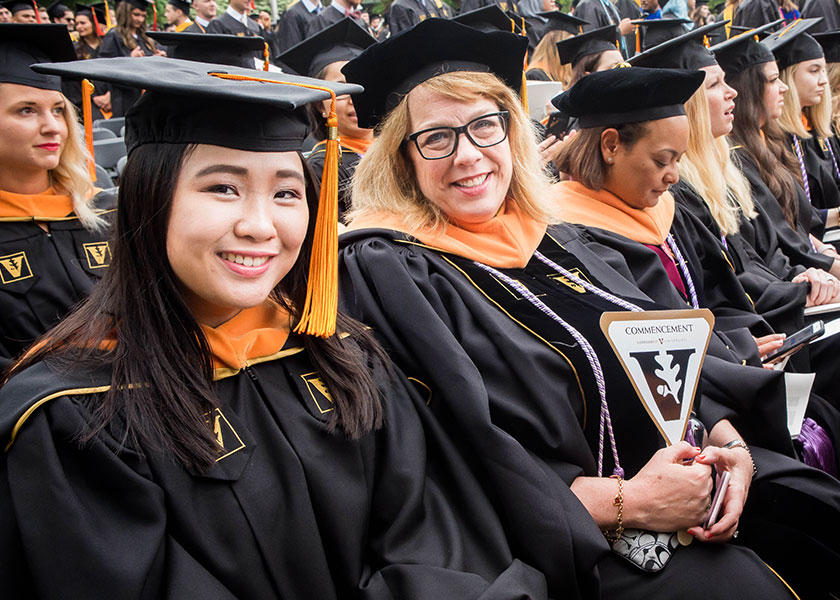 Dean Linda D. Norman, DSN, FAAN, told the Vanderbilt University School of Nursing's 2019 graduating class that she is optimistic about the future of health care because of them.
"You are the answer to society's health care challenges," she said. "Not just because you are needed as providers, but because each of you is a nurse leader equipped to ask the hard questions, to identify the problems and find the best solutions, to discover knowledge, and to lead the discussions that will revolutionize health care delivery."
Norman, who is also the Valere Potter Menefee Professor of Nursing, spoke to Master of Science in Nursing and Doctor of Nursing Practice graduates and guests during investiture ceremonies held at Branscomb Quadrangle on Friday, May 10. The class included 348 MSN and 56 DNP graduates. An additional five PhD in Nursing Science graduates were honored in separate Vanderbilt Graduate School ceremonies.
"As nurses with advanced degrees, you know that there are large and complicated challenges facing health care in our country and around the globe," Norman said. "Yet I am optimistic about the future of health care because of you."
In addition to congratulating the graduates, the dean thanked them for their patience during the school's recent building construction project. "Those of you who finished in August and December 2018 were in the thick of the project's destruction and construction," she said. "You were magnificent — uncomplaining, always upbeat and completely excited about the promise the new building held for future students. I thank you so very much for your patience and support. You are a very special group."
Because VUSN students finish their programs at different times of the year, the 2019 class was made up of graduates who finished their nursing programs in August 2018, December 2018 and May 2019.
Misty Smith was among the DNP students to finish her program in December. A native Hawaiian, Smith works as a neonatal advanced practice provider in the neonatal intensive care unit at Seattle's Children's Hospital. "The Vanderbilt DNP program has provided me with immense opportunities for knowledge acquisition, personal and professional growth, and everlasting friendships," Smith said. "VUSN embraced my Aloha spirit, allowing me to grow as a Native Hawaiian doctorally prepared nurse providing optimal care to a diverse and fragile population."
Founder's Medalist for the School of Nursing was DNP graduate Brooke M. Faught. A successful entrepreneur who worked 60+ hours a week while enrolled at VUSN, Faught directs the Women's Institute for Sexual Health, a Brentwood, Tennessee, practice focusing on female sexual health care. Faught is also the mother of three daughters, one with special needs.
Her DNP project focused on ways that providers might help young women with Down syndrome receive relevant and appropriate sexuality education. "In my DNP program, I became acutely aware of the severe deficiency in published literature on sexuality in the intellectual and developmental disabilities community," Faught said. "Moving forward, I aim to develop an evidence-based protocol for health care providers to facilitate conversations and provide appropriate sexuality education to individuals with IDD."
The breakdown of the School of Nursing's MSN graduates by specialty is 50 Adult-Gerontology Acute Care Nurse Practitioner, 34 Adult-Gerontology Primary Care Nurse Practitioner, 64 Family Nurse Practitioner, nine Family Nurse Practitioner/Adult-Gerontology Acute Care Nurse Practitioner (Emergency Focus), one Nursing Health Care Leadership, 24 Neonatal Nurse Practitioner, eight Nursing Informatics, 10 Nurse-Midwifery, six Nurse-Midwifery/Family Nurse Practitioner, 16 Pediatric Nurse Practitioner–Acute Care, 54 Pediatric Nurse Practitioner–Primary Care, 48 Psychiatric-Mental Health Nurse Practitioner (Lifespan), 21 Women's Health Nurse Practitioner and three Women's Health/Adult Nurse Practitioner.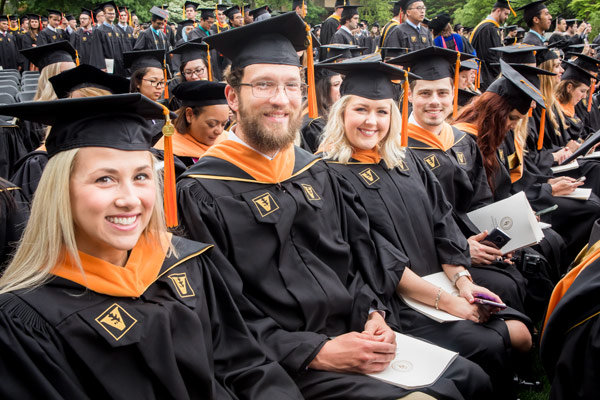 PNP-PC MSN graduate Sarah Ulery with ENP graduates Matthew Bailey, Susanna Dunlap and David Morrison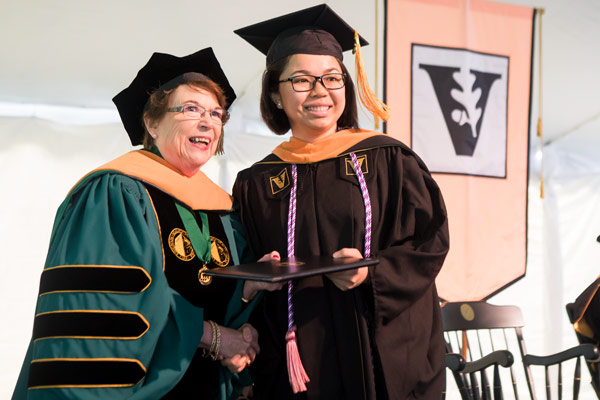 Dean Linda Norman, DSN, congratulates new MSN Nhan Le Ai Dinh (Adult-Gerontology Acute Care Nurse Practitioner).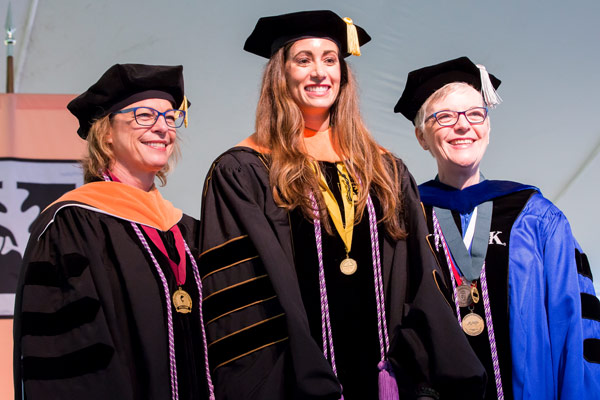 School of Nursing Founder's Medalist Brooke Faught, center, poses with Terri Allison, DNP, left, and Mavis Schorn, PhD.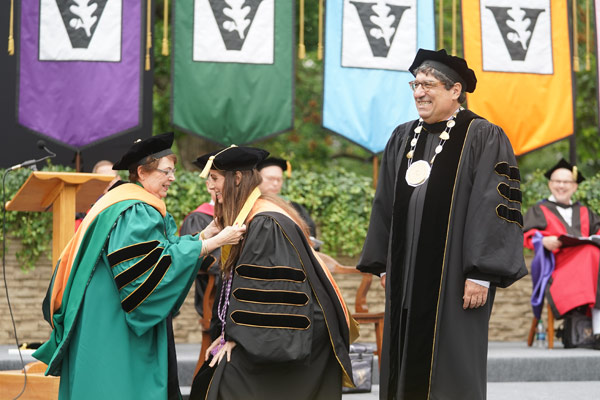 Dean Linda Norman presents the Founder's Medal for the School of Nursing to DNP graduate Brooke Faught. Chancellor Nicholas S. Zeppos waits to congratulate Faught.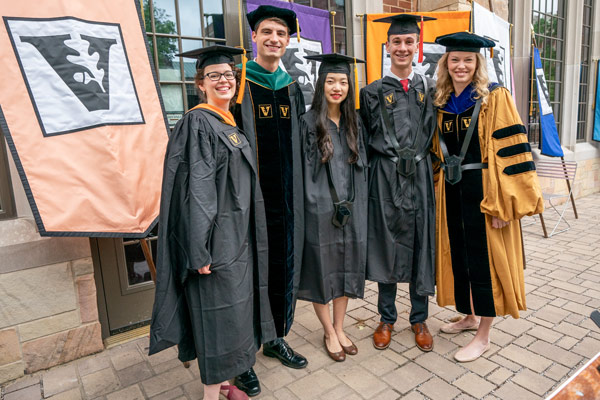 Natalie Gale (left), a Nurse-Midwifery/Family Nurse Practitioner MSN student, was VUSN's Banner Bearer. Here she waits with other banner bearers for the procession.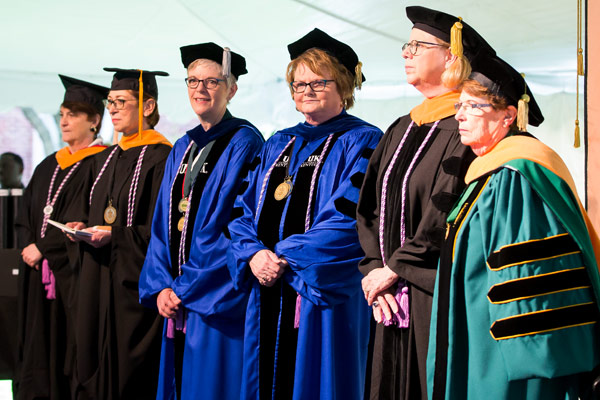 School of Nursing faculty watch as the graduates process in. Left, Paddy Peerman, MS; Marilyn Dubree, MSN; Mavis Schorn, PhD; Betsy Weiner, PhD; Pam Jones, DNP; Dean Linda Norman, DSN.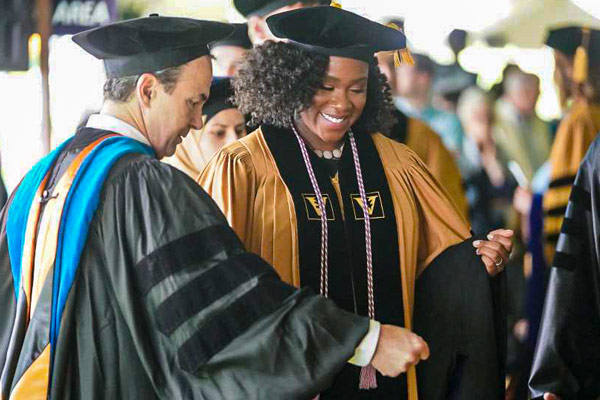 New PhD Julia Steed during Graduate School ceremonies. Five School of Nursing students earned the PhD in Nursing Science this year.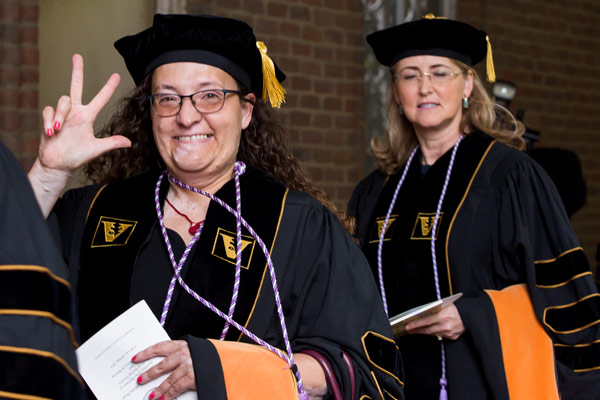 DNP graduates Danica Ninkovic and Olive Phillips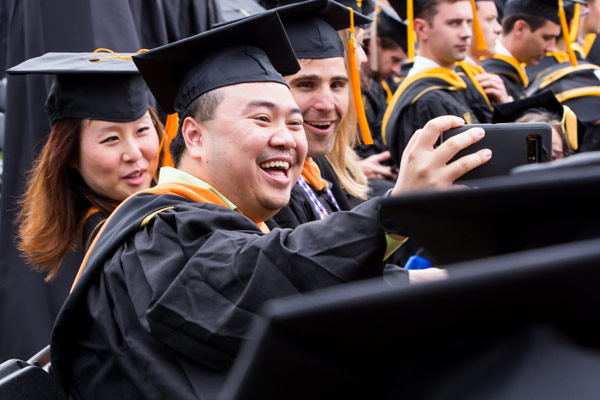 FNP MSN graduates Phat Ho, Agnes Jo and Jerald Westendorf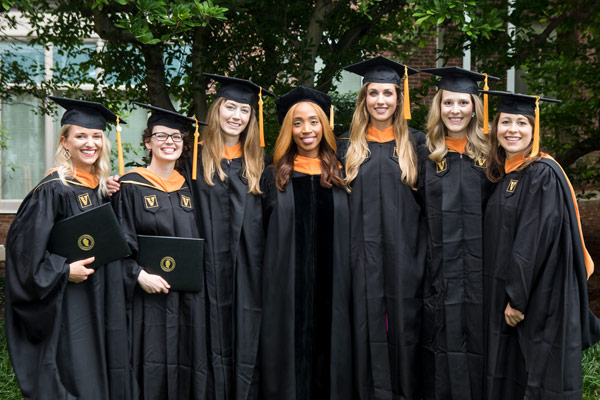 Instructor Jannyse Starks, DNP, surrounded by new Nurse-Midwifery/Family Nurse Practitioner graduates. Left, Una Sammon, Alexandra Speros, Melanie Steen, Starks, Mary Flanigan, Natalie Gale, Brooke Collins.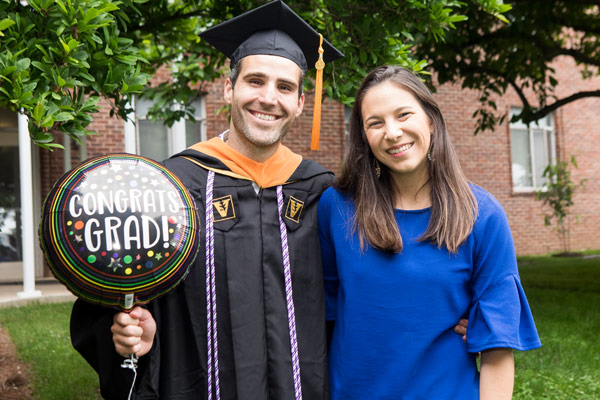 MSN graduate Gerald Westendorf (FNP) and Christina Westendorf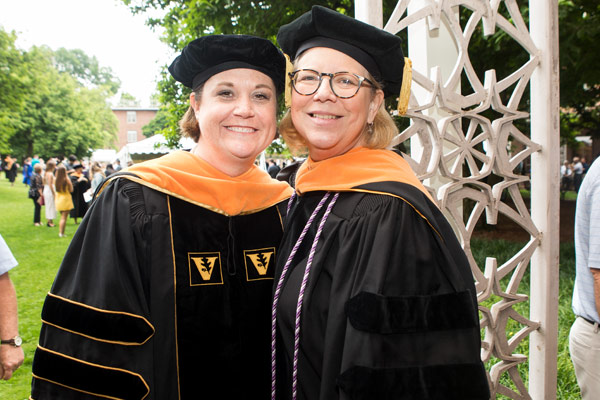 DNP graduate and VUSN Alumni Board President Tiffany Street with Senior Associate Dean for Clinical & Community Partnerships Pam Jones, DNP.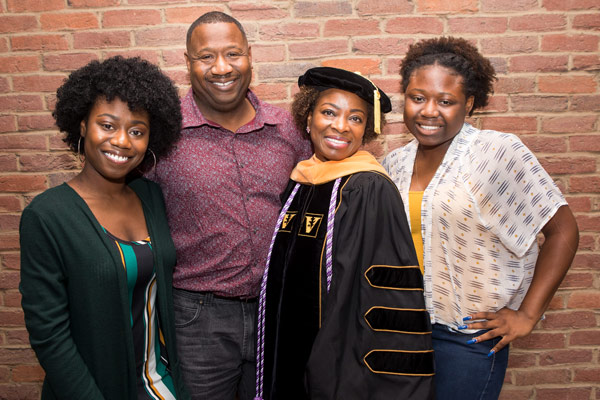 Left, Chelsea, Terry, Tiffinie and Colbi Zellars celebrate Tiffinie's DNP.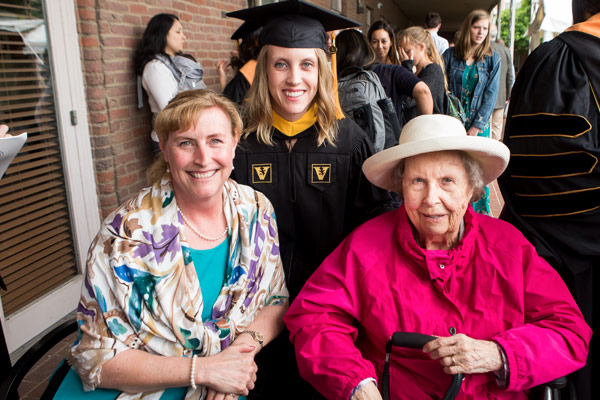 MSN graduate Rachel Buchleiter (Nursing Informatics) is a third generation nurse. Here she's flanked by her aunt, Laura Buchleiter, and her grandmother, Betty Buchleiter, both nurses.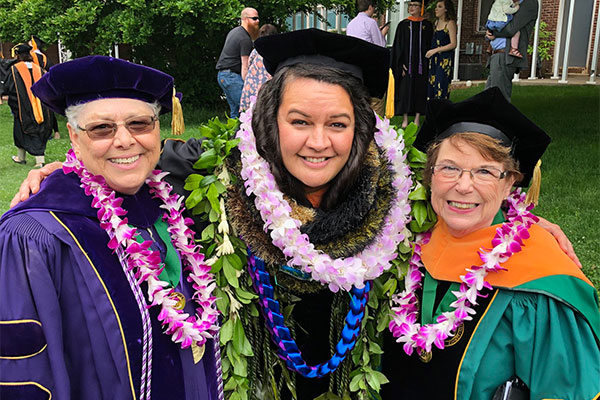 NNP Director Karen D'Apolito, DNP graduate Misty Smith and Dean Linda Norman. Smith, who is from Hawaii, presented celebratory leis to D'Apolito and Norman.
Photos by Susan Urmy, Vanderbilt University.
Top of page:  MSN graduate Mary Ann Enriquez (Adult-Gerontology Primary Care Nurse Practitioner) and DNP graduate Marci Zsamboky