School of Nursing awards record number of DNPs during Commencement
Share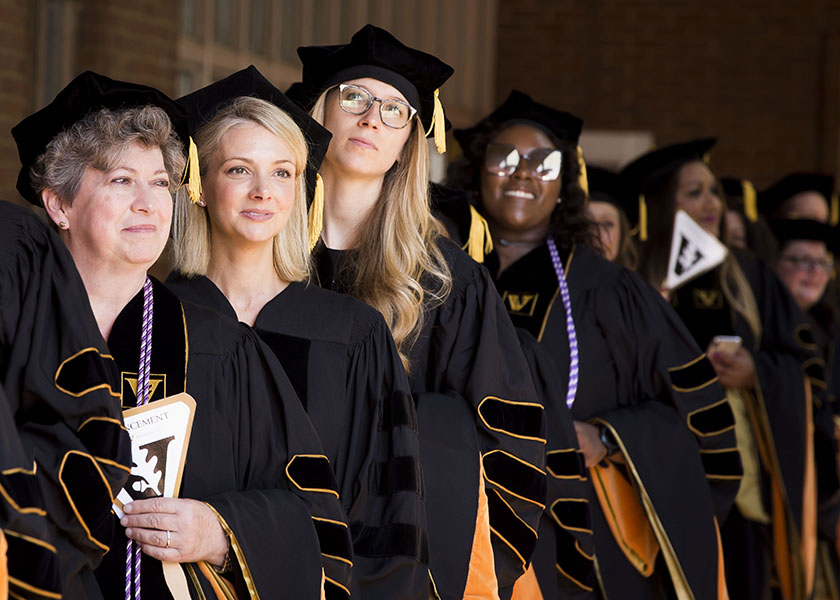 Last week's Commencement marked a milestone for the Vanderbilt University School of Nursing when it awarded 73 Doctor of Nursing Practice (DNP) degrees, the greatest number since the program began in 2008.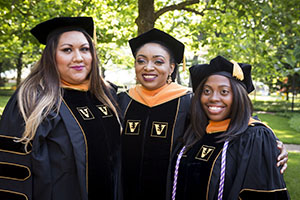 The school also awarded the Master of Science in Nursing (MSN) degree to 326 graduates during the investiture ceremonies on Branscomb Quadrangle. An additional six nursing students received their PhD in Nursing Science degrees in separate ceremonies held by the Graduate School.
VUSN Dean Linda D. Norman, DSN, FAAN, told the assembled graduates that when she looked at them, she saw excellence and the bright, dedicated future of health care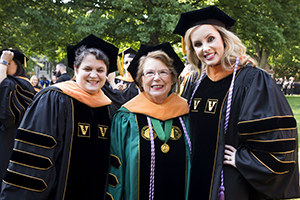 "I see students whose care of patients made a difference in those patients' lives. I see campus leaders and passionate volunteers. I see students who worked while going to school, studying and raising families. I see students whose evidence-based scholarship is already improving patient care," said Norman, the Valere Potter Menefee Professor of Nursing. "You did all of that while achieving in academically challenging courses and rigorous clinical practice. Vanderbilt is proud of you, and we look forward to what comes next in your professional journeys."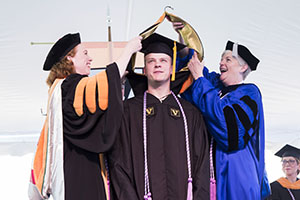 Because VUSN students finish their programs at different times of the year, some graduates have already begun those journeys. This year's investiture ceremonies honored those who completed their educations in August 2017, December 2017 and May 2018.
Double 'Dore
School of Nursing Founder's Medalist Brenna Gillis, MSN'15, DNP, concluded her DNP work in August 2017. Gillis entered Vanderbilt as an MSN student without prior nursing experience. By the time she finished her master's work in 2015, Gillis knew she wanted to continue at Vanderbilt for her doctorate.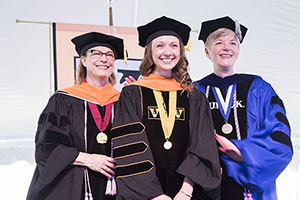 "When I entered VUSN, I had no concept of how greatly this institution would shape my professional development and career aspirations," Gillis said. "Beginning in my first year, I developed a passion for integrating mental health with women's health and perinatal care. I was especially interested in the emotional wellbeing of pregnant women."
As a DNP student, Gillis explored how group-based interventions for women with postpartum depression might support them in recovery. For her DNP scholarly project, she developed a system that standardized and incorporated education about perinatal depression into routine prenatal care at a woman's clinic.
Now a certified psychiatric-mental health nurse practitioner, Gillis provides mental health services in a private clinic in Murfreesboro, Tennessee.
Double celebration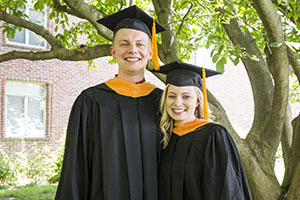 Demetria Smith, MSN, and Brendan Tennefoss, MSN, and their families and friends doubly celebrated at Commencement. The day after they walked across the platform and received their VUSN hoods, the pair walked down the aisle and married.
Smith and Tennefoss met as incoming Adult-Geriatric Primary Care Nurse Practitioner (AGPCNP) students in August 2016. Smith was from Centerville, Tennessee, and a dual AGPCNP and Women's Health Nurse Practitioner student. Tennefoss was from Spokane, Washington. Within a few weeks, the two became study partners and were assigned to the same clinical group. Three months later, they began dating. They spent the next 20 months studying, learning and working together.
Within weeks of finishing their AGPCNP program, the couple became engaged.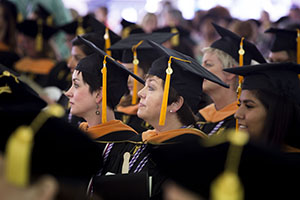 "We are both truly thankful for the opportunity to attend Vanderbilt," Smith said. "Not only did we gain professions that we love but we met each other. When we started making wedding plans, we realized that our families and the friends we'd gone through the program with were going to be at Commencement. We decided to get married here the day after."
The couple got married just south of Nashville on the site of an organic community supported agriculture (CSA) farm they supported during their graduate program. "May is a beautiful time of year at Vanderbilt," Tennefoss said. "It is an excellent time for our families to come together and to enjoy spring, the campus and Nashville."
After the celebrations, Smith and Tennefoss will return to Oregon, where they both are board certified Adult-Gerontological Primary Care Nurse Practitioners. They will be back in Nashville in a few months, however. The two are set to begin classes in VUSN's doctor of nursing practice program in August.
Photography: Susan Urmy/Vanderbilt University