Rhoten and Sengstack receive VUSN student-voted awards for teaching excellence
Share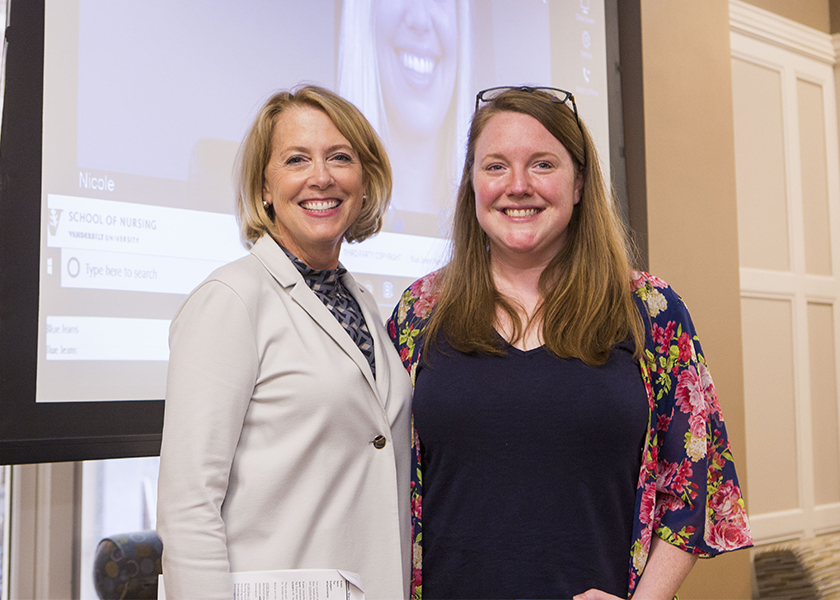 Vanderbilt University School of Nursing doctoral students named faculty members Bethany Rhoten and Patricia Sengstack as the recipients of the school's student-voted Dean Colleen Conway-Welch faculty awards.
Assistant Professor of Nursing Rhoten, PhD'13, MSN'09, was named the 2018 PhD faculty award recipient. She teaches informatics and scholarly inquiry, foundations of clinical research and quantitative methods, and advises PhD students.
Student nominations hailed her as a strong mentor, educator and role model. "She balances challenging us to push further in our thinking (with) celebrating our achievements with grace," one nominator wrote. "Each and every one of her students feels how deeply she cares about us." Several nominators mentioned that her teaching has helped them with their research goals. "She was able to solidly ground a purely theoretical course in a way that left students feeling well prepared for what lies ahead and encouraging growth towards their goals," said one. Another wrote, "I truly believe my research goals will be realized due in great part to her assistance during formulation." Rhoten's research focuses on improving the lives of people after cancer, specifically in the areas of body image and sexuality.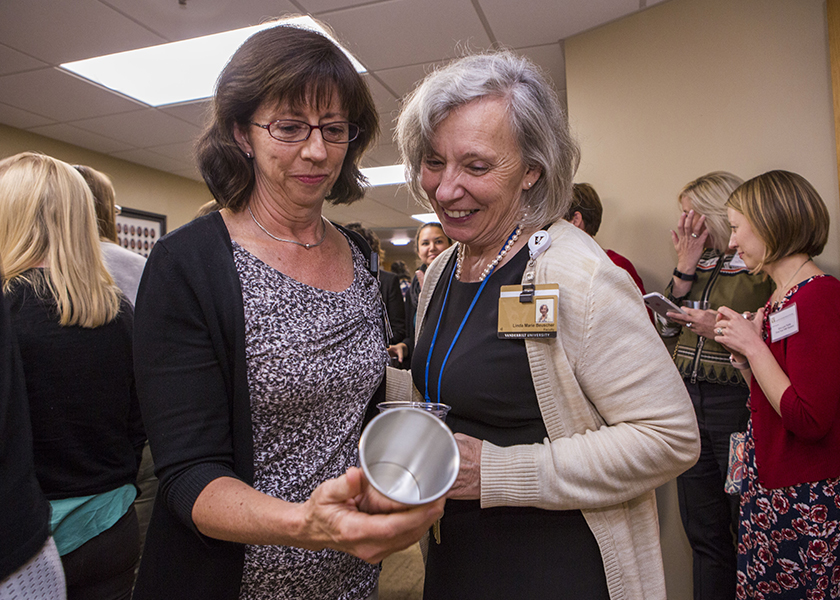 Doctor of Nursing Practice students selected Sengstack, DNP'10, RN-BC, FAAN, associate professor of nursing, as the 2018 recipient of the DNP program faculty award. She teaches informatics at the doctoral and master's level, and directs the Nursing Informatics MSN specialty.
DNP students credit her for outstanding mentoring and sharing a passion for informatics. "She has been the one motivating and driving force to help get me through the DNP program," said one. "As a mentor and committee chair, she is encouraging, motivating and takes the time to send along helpful articles." Another said that Sengstack went far and beyond the student's expectations for faculty. "She has been a mentor to us all and truly inspirational in my journey." She was also praised for her teaching. "She can lecture in an engaging manner and explain material in various ways to reach a greater audience," a student said. Sengstack, who is also a Nursing Informatics Executive at Vanderbilt University Medical Center, has published extensively on informatics. Her current scholarly interests include reducing the documentation burden for nurses in electronic health records, optimizing clinical systems to improve patient safety, and developing informatics structures and processes in support of a geographically disperse health care delivery system.
The annual Dean Colleen Conway-Welch awards recognize faculty in the DNP and PhD programs who make significant contributions to student learning in their courses and/or who encourage students as advisers or mentors, particularly through knowledge of content area, modeling of professional behaviors and encouragement of scholarship.
Images: 
Top: Left, Senior Associate Dean Mariann Piano congratulates Colleen Conway-Welch Faculty Award recipient Bethany Rhoten.
Middle: Left, Patricia Sengstack and Assistant Professor Linda Beauscher admire the silver julep cup Sengstack received as the 2018 Colleen Conway-Welch DNP Faculty Award recipent.