Vanderbilt School of Nursing celebrates grand opening of revolutionary building expansion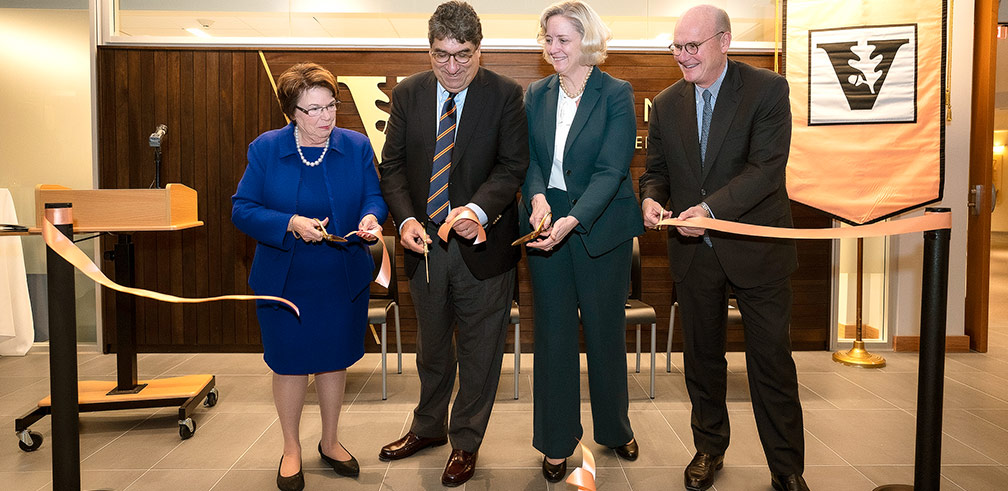 Vanderbilt University School of Nursing opened a new $23.6 million building expansion containing a state-of-the-art simulation lab, technologically advanced classrooms and student services offices with a grand opening and ribbon cutting event on Jan. 22. The high-tech building also features wellness components designed to support occupants' well-being in health and comfort.
Speaking to guests that included health care leaders, federal and state officials, donors, university leadership, students, faculty and staff, Vanderbilt University Chancellor Nicholas S. Zeppos noted the ways in which the expansion reflects Vanderbilt's approach to the field of nursing.
"The School of Nursing is deeply committed to improving the quality of health care and to educating the professionals who will provide that care in our communities and around the globe," said Zeppos. "This building captures the cutting-edge and unique interdisciplinary way of teaching and conducting research that has made the Vanderbilt University School of Nursing a national model for education, discovery and advancing human health."
As part of its focus on well-being, the building incorporates natural lighting, improved air quality, a rooftop green space and open staircases with wide landings. It was constructed to meet LEED Gold certification and rigorous WELL Building Standard requirements that consider a structure's impact on its occupants in the areas of air, water, nourishment, light, fitness, comfort and mind. The university will apply for WELL Silver certification and anticipates that it will be Nashville's first building designed from the ground-up to be WELL-certified.
Vanderbilt Provost and Vice Chancellor for Academic Affairs Susan R. Wente said that the expansion will support the school's research mission with increased student-faculty interactions. The building's state-of-the-art Simulation and Skills Lab will also be key in expanding the student experience. "The lab is packed with technology and authenticity to give students a tremendous opportunity to gain clinical decision-making experience, and complex skills development, in a multitude of health care scenarios," said Wente. "We embrace such experiential and immersive student learning as it will ensure our nursing students are well prepared for fulfilling, vital and successful careers as health care solution providers in their communities and across the globe."
The Simulation and Skills Lab fills the building's third floor, and the technologically sophisticated teaching/learning space contains advanced equipment and 13 patient care bays that can be used for emergency, obstetrics, pediatric, bedside, practitioner office or neonatal nursery settings.
Vanderbilt Board of Trust Chairman Bruce Evans was impressed at how the building incorporates technology and innovation. In addition to advanced technology in the Simulation Lab, the building includes a virtual classroom and sophisticated interactive classroom.
"The Wachtmeister Interactive Classroom is equipped with five, high-definition, interactive displays that allow students to huddle for collaborative work, show content to small groups on individual displays from their own laptops or smart devices, and to share the results of their work on multiple displays with the entire classroom," Evans said. "This important, state-of-the-art, collaborative and interactive workspace adds new opportunities for learning and teaching at the Vanderbilt University School of Nursing."
Linda D. Norman, VUSN dean and the Valere Potter Menefee Professor of Nursing, said that the building would expand the school's ability to advance innovative, collaborative and interactive education, research and practice. "This beautiful and leading-edge building equips the School of Nursing to educate and inspire future advanced practice nurses, nurse leaders and nurse researchers while also providing opportunities for discovery, collaborations and development of best practices," she said. "It's already enabling new transinstitutional projects and coursework. I look forward seeing the new and creative initiatives it will inspire from our faculty, staff and students."
Other technology-advanced class/seminar rooms in the building include the elegant fifth-floor Christy-Houston Foundation, Inc. Conference Room, second floor Holeman Reynolds Conference Room and the Agnes K. Godchaux Conference Room, which serves the third floor Simulation Lab. The fifth floor also contains the Sandra Coats Chase Terrace, an open-air green space that adds to the building's wellness components.
Other wellness aspects include natural lighting that supports human circadian rhythms with optimum light intensity for at least four hours a day, an open staircase with wide landings that encourage low-impact and moderate-to-vigorous stair climbing, ceiling tiles in the classrooms that soften sound reverberation, and the deliberate incorporation of nature with a landscaped open space in front of the building. The colors, textures, patterns and materials used in the expansion have been selected to reflect nature and connect people with natural surroundings.
The Vanderbilt School of Nursing is located at 461 21st Ave. South in Nashville. The 29,947-square-foot building was designed by Hastings Architecture and the construction manager was D.F. Chase.
About WELL
WELL is administered and certified by the International WELL Building Institute. IWBI works with Green Business Certification Inc., the same organization that administers LEED certification, to oversee WELL certification. The building evaluation will be carried out by Green Business Certification Inc. (GBCI), the third-party certification body for WELL, to ensure it meets all WELL Certified Silver performance requirements.
About LEED
The project is also pursuing LEED certification for new construction, targeting gold. LEED—Leadership in Energy and Environmental Design—certification is a nationally accepted benchmark for green building construction. Certification indicates that the building is environmentally responsible, profitable and a healthy environment in which to live and work. Vanderbilt has 18 LEED-certified structures, including nine certified gold.