Retiring School of Nursing faculty lauded for commitment, change and engagement
Share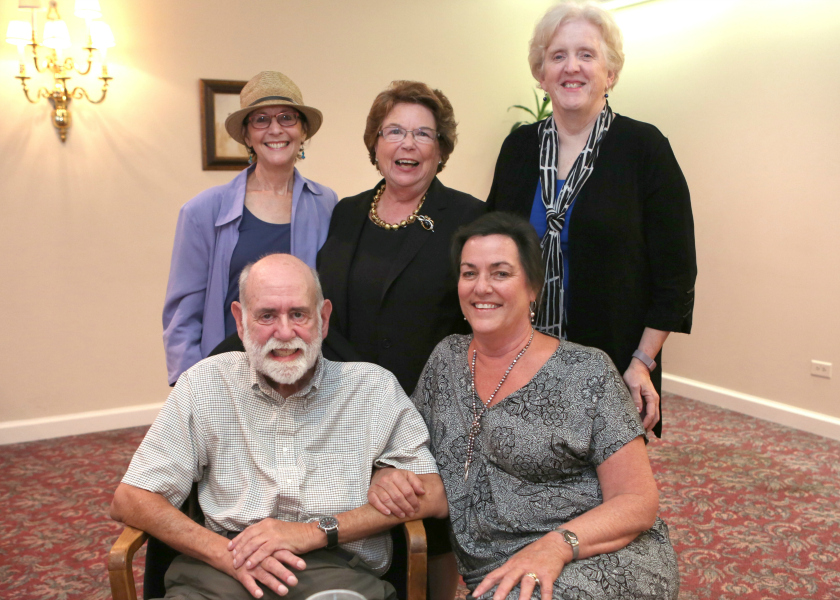 The Vanderbilt University School of Nursing (VUSN) recognized four retiring faculty members for their contributions to the school, community and profession during a recent gathering at the University Club.
The four retiring professors—Marty Conrad, Bonnie Pilon, Clare Sullivan and Ken Wallston—accounted for 110 years of nursing education. Linda Norman, DSN, R.N., FAAN, the Valere Potter Menefee Professor in Nursing and VUSN dean, presented each faculty member with a VUSN commemorative gift, thanking them for giving much to the school and helping make it what it is today.
Marty Conrad, R.N., BSN '78, MPH, served as an instructor with the school for almost 14 years. She taught in the school's PreSpecialty program and focused on community health education. She worked closely with community organizations to give her students a true view of community and population health needs. Conrad's extensive experience with public health, disaster relief and community nursing enriched her classes and the curriculum. "One of Marty's greatest contributions was in helping us pay attention to our commitment to public health," Norman said, noting that Conrad was instrumental in helping students gain an understanding of local, national and global public health needs. Conrad has a long history of community engagement with the Red Cross Blood Board, Nurses for Newborns and Red Cross disaster relief, among other organizations.
Bonnie Pilon, Ph.D., NEA-BC, FAAN, joined Vanderbilt in 1989 as an assistant professor and director of the school's nursing administration graduate program. Ten years later, she was named professor and senior associate dean for clinical and community partnerships, responsible for all activities related to VUSN's practice mission. In that capacity, she developed and directed more than 10 faculty practice sites to provide health care in schools, community clinics, domestic violence shelters and apartment buildings for disabled and elderly residents. She also secured millions in funding for health care for vulnerable populations and federal grants for VUSN-managed clinics. "Bonnie's commitment to quality health care for the underserved continues to benefit the community today," Norman said. "Academically, her dedication to expanding the role of nurses in management has positioned countless students for leadership." Pilon is a leading authority on nurse-managed clinics, considered one of the solutions to the nation's health care challenges. In 2001, the American Academy of Nursing inducted her as a fellow in recognition of her scholarly contributions to the discipline of nursing. Pilon was named professor of nursing, emerita, during Commencement ceremonies in May.
Instructor in Nursing Clare Sullivan, MSPH, MSN '95, joined Vanderbilt in 1996. Since 2009, she served as the Translation Research Coordinator for the Vanderbilt Institute for Clinical and Translational Research (VICTR), which is charged with connecting research and teaching to policy and practical solutions. The policy role was perfect for Sullivan, who exemplified commitment to social justice, Norman said. "In her many roles at Vanderbilt, Clare has always exemplified a commitment to social justice," Norman said. "If there was a health policy issue, I'd get a note from Clare saying, "Here's something you should pay attention to." In addition to being a VUSN instructor in clinical nursing, Sullivan was active as a school nurse and involved in coordinating school health programs across Metro Nashville.
Kenneth A. Wallston, Ph.D., held multiple appointments at Vanderbilt, serving as professor of Psychology in the School of Nursing, the College of Arts and Science and Peabody College, and professor of Human and Organizational Development at Peabody. In his more than 40 years at the university, he was also a Kennedy Center member, research associate at the Vanderbilt Institute for Public Policy Studies, and longtime director of the VUSN Health Care Research Project. He taught quantitative research methods to four decades of Vanderbilt students and mentored countless nurse researchers. His service to Vanderbilt included serving on school and university committees, as well as chairing the university's Faculty Senate. Wallston worked widely in the transdisciplinary arena termed behavioral medicine and is known internationally for his research regarding the influence of individuals' beliefs in their ability to control their health on their health behavior and outcomes. In 2007, Wallston was named the Joe B. Wyatt Distinguished University Professor, an honor that few nursing faculty receive, Norman noted. He was named professor of nursing, emeritus, during Commencement ceremonies in May.
Image:
Vanderbilt University School of Nursing retiring faculy with Dean Linda Norman. Clockwise from top left: Clare Sullivan, Dean Linda Norman, Bonnie Pilon, Marty Conrad and Ken Wallston.
Photo by Anne Rayner