Colleen Conway-Welch recognized posthumously by Community Foundation
Share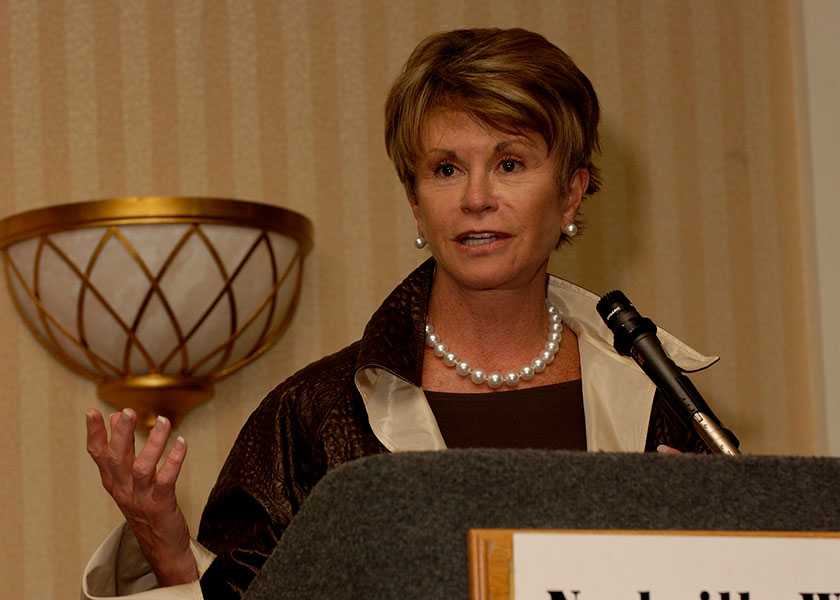 The Community Foundation of Middle Tennessee will honor the late VUSN Dean Colleen Conway-Welch with its Joe Kraft Humanitarian Award on Thursday, Oct. 17, at Nashville's Music City Center. Conway-Welch is one of seven women honorees dubbed trailblazing Women of Wonder by the foundation for their demonstrated commitment to community, home and hearth, and individuals in need.
Conway-Welch served as dean of Vanderbilt School of Nursing for 29 years before retiring in 2013. She is credited with transforming nursing education at Vanderbilt and nationally. When she was recruited to Vanderbilt in 1984, the School of Nursing was educating approximately 100 baccalaureate students and a small number of master's students; it had no doctoral program. Under her leadership, VUSN developed an accelerated master's program and created two doctoral programs, the Ph.D. in Nursing Science in 1993 and Doctor of Nursing Practice program in 2008. Today, Vanderbilt School of Nursing is one of the nation's largest schools of nursing and ranks as a top nursing school.
In addition to her contributions to the nursing profession, Conway-Welch was active in the Nashville community. She supported many local organizations and served on a variety of community, corporate and foundation advisory boards. She served as chair of the board of directors of the Nashville Symphony, the United Way of Middle Tennessee's Annual Fund and the Nashville Rotary Foundation. She and her husband, Ted Welch, were active in political, charity and civic events locally and nationally. Conway-Welch died Oct. 12, 2018, following a courageous battle with cancer.
In addition to Conway-Welch, the foundation will honor Clare Armistead, style icon, philanthropist and fundraiser; Janet Ayers, philanthropist and education patron; Inez Crutchfield, Tennessee State University educator, political insider and Civil Rights activist; Annette Eskind, champion of adoption, and education and social reformer; Carrie Gentry, TSU educator and Civil Rights activist; and Rosetta Miller-Perry, founder of The Tennessee Tribune and Civil Rights activist.
The 26th Annual Kraft luncheon will be held Thursday, October 17, at 11:30 a.m. at the Music City Center's Davidson Ballroom in Nashville. Reservations for the event can be made by calling 615-321-4939.
The Joe Kraft Humanitarian Award Fund continues the memory of Joe Kraft, who made Middle Tennessee a better place to live through his dedication to community, home and hearth, and individuals in need. The committee who chooses the recipient is particularly interested in nominations of community leaders who, like Joe, sometimes function behind the scenes. The person(s) named as the recipient of this annual award receives the opportunity to recommend that grants from this Fund be distributed to charities in which he or she believes.
Tickets for the luncheon event may be ordered online at www.cfmt.org or by calling 615-321-4939.