News Around the School: Zsamboky to lead Psychiatric-Mental Health NP program
Share
Assistant Professor Marci Zsamboky, DNP'18, RN, PMHNP/CNS-BC, CNE, has been named academic director of the Psychiatric-Mental Health Nurse Practitioner (Lifespan) specialty at Vanderbilt University School of Nursing.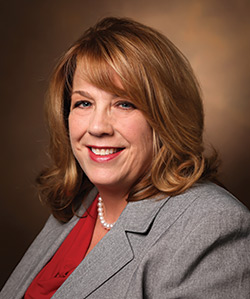 The Psychiatric-Mental Health Nurse Practitioner specialty is one of the school's most competitive programs and is currently ranked No. 1 in the nation by U.S. News & World Report in its 2021 Best Grad Schools of Nursing.
"Vanderbilt's PMHNP specialty plays a critical role in educating future mental health and substance abuse disorder providers who can respond to the urgent need for mental health services in this country," said Senior Associate Dean Mavis Schorn, PhD, RN, CNM, FACNM, FAAN, FNAP. "Marci has the right leadership style, academic background and clinical experience to continue the specialty's trajectory and growth. As demand for behavioral health care increases, Marci and the PMHNP faculty will make sure that Vanderbilt is on the cutting edge of care and delivery."
Zsamboky is an experienced educator and clinician with more than 20 years' experience teaching nursing at undergraduate and graduate levels. Her clinical background includes inpatient, outpatient and specialty clinic practice, as well as private practice with a focus on child and adolescent psychiatric health. Currently, she practices at Murfreesboro's Primary Care and Hope Clinic. Her research interests include child and adolescent psychiatry, adverse childhood experiences (ACEs), and the primary care–behavioral health model of integrated health care.
Zsamboky joined VUSN in 2017. She holds a bachelor of science in nursing from Indiana University of Pennsylvania and a master of science in nursing from the University of Pittsburgh Medical Center Shadyside School of Nursing. She earned a post-master's certificate in psychiatric-mental health and her doctor of nursing practice degree from VUSN. She holds three advanced certifications, including certified nurse educator.
Zsamboky succeeds former PMHNP academic director Dawn Vanderhoef, PhD, DNP, MSN'00, PMC'13, RN, PMHNP-BC, FAANP, who accepted an opportunity outside of VUSN where she will focus on neuropsychology; she will remain at VUSN as part-time faculty.