We subscribe to the "Bates' Visual Guide to Physical Examination". If you want to post links to those videos in Brightspace for your class to view, there are some steps you must take.
We actually have two links for every video or set of videos in the Bates' database.  Which URL you get depends on whether you are searching from on campus (on the Vanderbilt network), or whether you are searching from home, using your home internet service provider such as Comcast, Spectrum, ATT, or others. The on campus URL will ONLY work if the person is on campus. If you post that URL for your students, they must be on campus to view the video. HOWEVER, if you post the off campus URL for your students, they will be able to view it regardless of whether they are OFF CAMPUS or ON CAMPUS. So, to be safe, since you never know where your students are and you don't want to restrict it to on campus viewing only, ALWAYS post the off campus URL. It works fine for both on and off campus.
NOTE: if you attempt to link the Bates series by using the on campus URL while you are off campus, your IP address will NOT be recognized and you will be bounced to the Bates login page. Since you do not have an account with Bates you will not be able to get in. Do NOT attempt to use your VUNetID and ePassword since that will NOT work.  Also note that using the VPN is useless here because of the way our VPN is setup.
In short, if you or your students want to access the Bates videos from off campus, you will have to post the off campus URL in Brightspace since that works for on and off campus.
The easiest way to find the URL is to do the following from HOME:
Go to the VUSN web page (http://nursing.vanderbilt.edu)
Click "Faculty and Staff" at the top
Click "Academic Resources"
Click "Bates Visual Guide to Physical Examination"
You will now be at the root (top) level of the Bates series.  If this is where you want to deposit your students, harvest the URL from the URL box at the top of the browser and post that.
If you want to drill down to a series or specific video, you may do so from here. When you are on the page you want your students to land on, harvest that URL and post it, with a description, into Brightspace. Remember, the BEST way to do this painlessly is to do it from HOME.
Ok, but what if you cannot do this from home and school is your only choice? You can edit the school based URL and put in the information for our proxy server.
For example, let's say the ON CAMPUS URL is:
https://batesvisualguide.com/multimedia.aspx?categoryID=21787#21768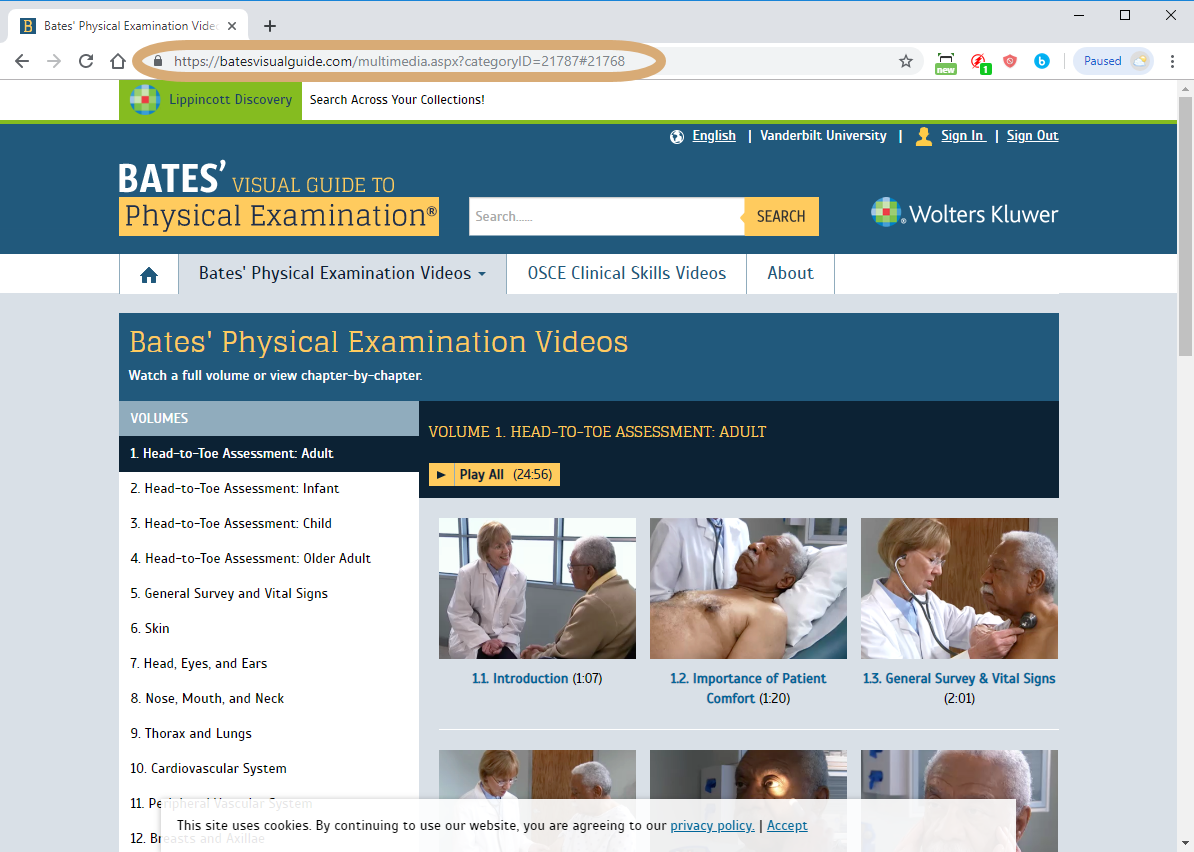 The OFF CAMPUS URL would then be:
https://batesvisualguide-com.proxy.library.vanderbilt.edu/multimedia.aspx?categoryID=21787#21768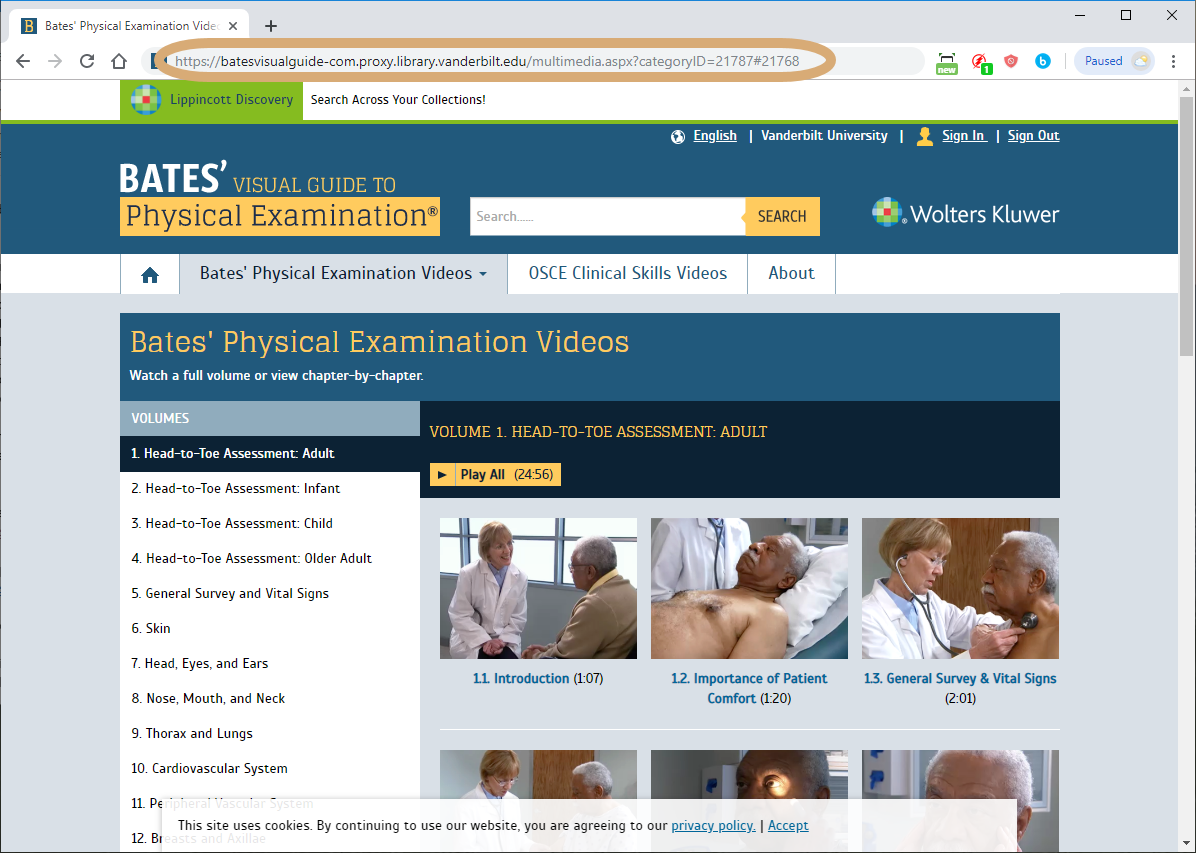 There are two fundamental differences between the two URLs. To convert the first to the second do the following:
Change the dot com to a dash com. So ".com" becomes "-com" (without the quotes).
After the -com put in (without the quotes) ".proxy.library.vanderbilt.edu" and then append the rest of the URL after it with NO spaces. Make sure you have a DOT before the word "proxy".
If you make these two changes, you will now have the off campus URL. Make sure you follow these directions EXACTLY IF you insist on doing this from on campus.  Failure to do it perfectly will result in a broken link. Again, if you aren't sure, check it by putting it into the URL line and if it is broken, go home and find the URL from there.
You will  notice that if you put in the off campus URL while on campus, it takes you to the right place. It DOES work but when you get to the page you want, the system will revert to the on campus URL. That is fine. Bates is simply ignoring the proxy server and looking at you solely by your IP address, which it recognizes because we have sent the acceptable range of our IPs to Bates.
JSG: 072219
Related Articles