The purpose of this article is to explain how to use the HTML page templates for topics in Brightspace.
 NOTE: Before applying any of the following templates you need to download and install the template package. Click here for instructions.
Template Types
Blank: an empty page with a banner image
Course Introduction: features full-screen image, and a clean area for course description
Module Introduction: banner image across the top and a numbered list for module's learning objectives
Meet Your Facilitator: dedicated space to present facilitator's expertise, experience, and personality
Basic: general-purpose layout
Video Lecture: present video content and accompany it with supporting context, explanations, and activities
Conclusion: page to conclude each module
Elements: samples of some commonly used page elements that can be copied to other pages
Images: different layouts for images on the page
Accordions: interactive accordions that can be copied to other pages
Tabs: interactive tabs that can be copied to other pages
Applying a Template
Step 1
In a module, click Upload/Create, and then click Create a File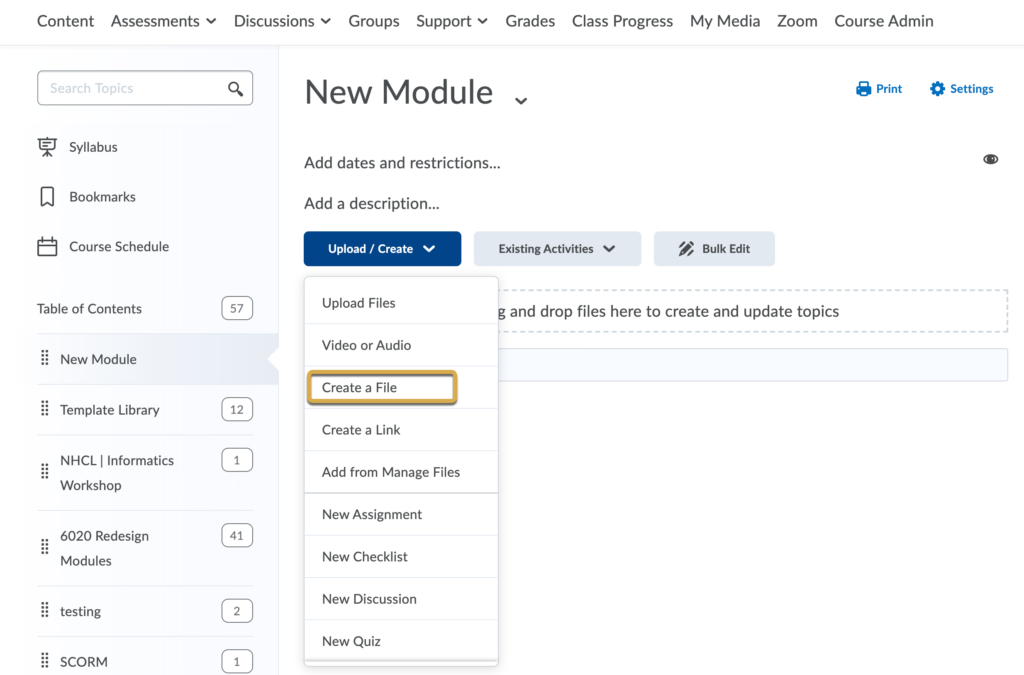 Step 2
Select a template from the drop down list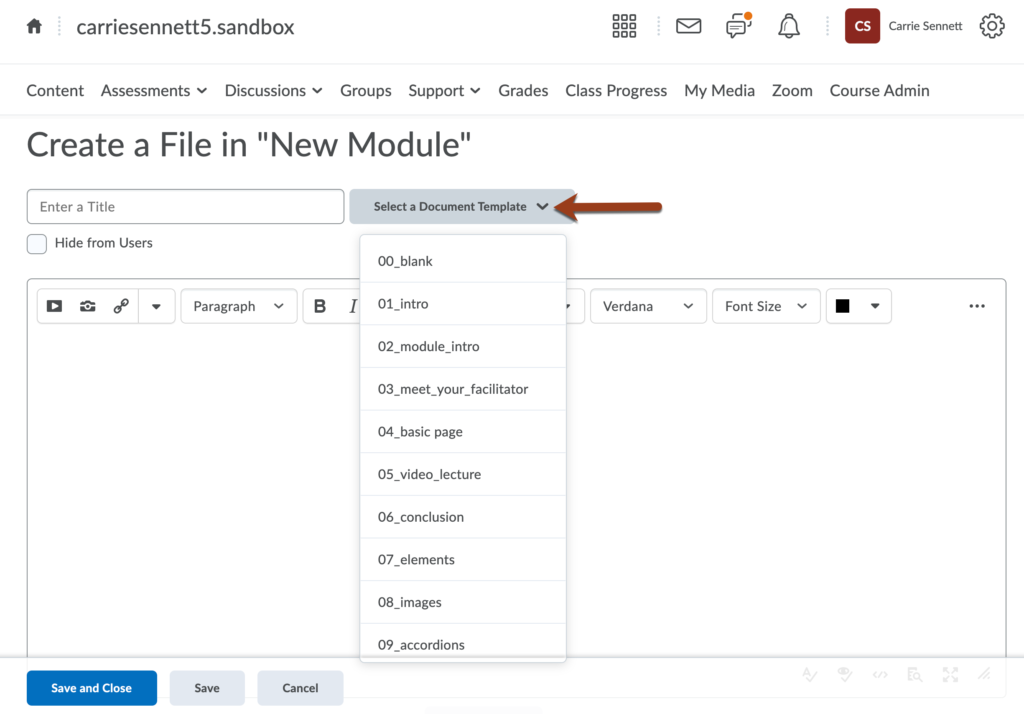 Step 3
Add content to your file.
 NOTE: Applying the template to an existing page will overwrite the content and you will lose your work. Click Cancel to discard the changes.
Editing a Template
You can use the HTML editor to make changes to any of the template pages. Enter your content and use the available controls to apply formatting to your text. Detailed instructions are included on each page.
Static and Dynamic Elements
Ordered List – Large: formatted list
Lead text: used to begin a new page of content or section of content
Blockquote: useful to call attention to simple  quotations that you want to stand apart from regular paragraph text but aren't necessarily the focus of the entire section of content
Jumbotron: useful for disrupting the flow of content to direct the learner attention to an important fact, statistic, or concept
Callouts: allow you to insert a unique piece of content within the regular content; two formats are provided: standard and icon
Tables: a convenient way to organize content and demonstrate the relationship between multiple pieces of content
Two Column Panels: useful for displaying two pieces of closely linked but separate content
Images: can be added to any page; directions for aligning images and text are provided in the template
Accordions: useful when you need to present learners with a list of items—accordions allow them to dig deeper (by opening the accordion) to learn more
Tabs: used for elaborating on an idea that has set structures or categories of sub-information
Adding Static and Dynamic Elements
Static and dynamic elements can be added to any of the page templates.
Step 1
From the source template, click the down arrow next to the title and then click Edit HTML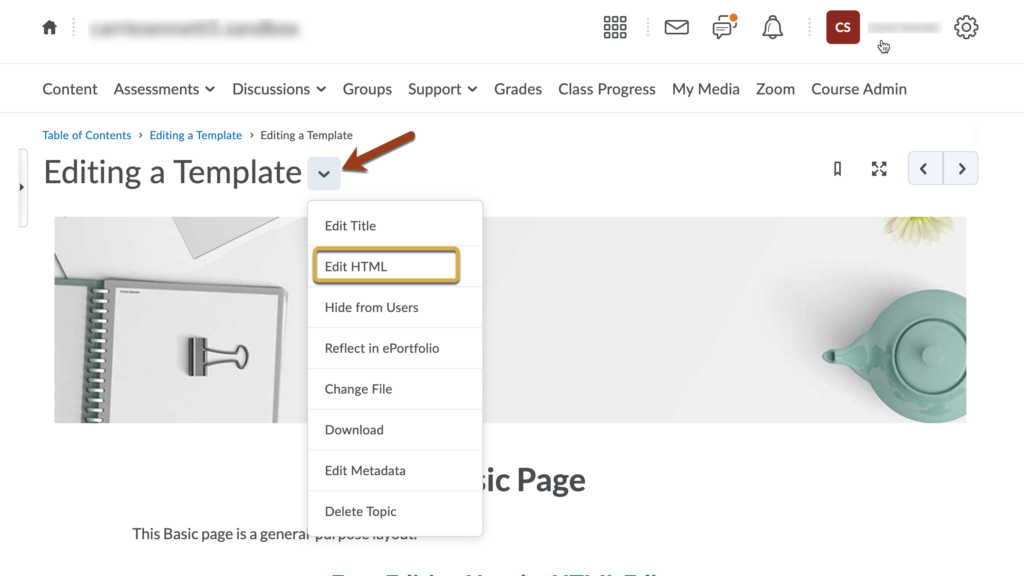 Step 2
Highlight everything from start copy to end copy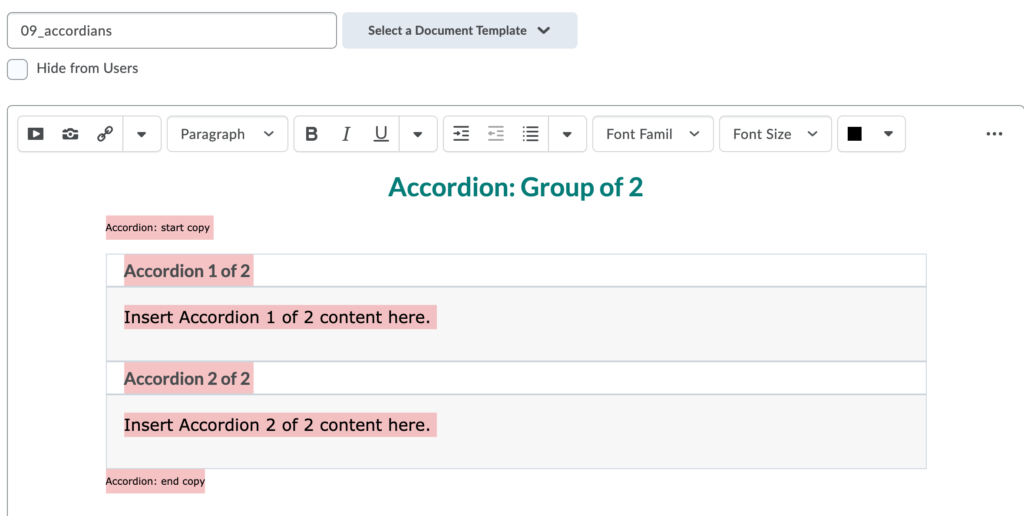 Step 3
On the target page, click the down arrow next to the title and then click Edit HTML
Step 4
Paste what you copied from the source template
Step 5
Continue editing the content and elements on the page by following the embedded directions.



TIP: You can copy and paste multiple elements on a single template page.
Step 6
Click Save and Close to save your work and close the HTML editor.
Video
Related Articles