The purpose of this article is to explain how to upload and convert a quiz file using the VUSN Test Converter for use in the Brightspace learning environment.
Step 1
Access the Brightspace test conversion tool from this location:
https://vusn6.vanderbilt.edu/ng-testconverter
When prompted, use your VUNet ID and password to log in before continuing.
Step 2
Click View Help. Read the information provided in the help documents to ensure your test file adheres EXACTLY to the format outlined.

Step 3
Once you are sure your test adheres to the specified format:
Click Browse to find your TXT document.  A search dialog will appear; navigate to your file's location and select it.
The file name will appear in the space next to the Browse button.

Step 4
Click Upload Test File to send your file to the server for parsing

Step 5
When the upload completes, you will be taken to an outline of your test.  This shows what the parser found after you uploaded your document.  This is the chance for you to look at the test questions and correct and errors.
*Note that any errors found will need to be corrected in the main test document and the document re-uploaded; you currently cannot correct questions directly from the test converter.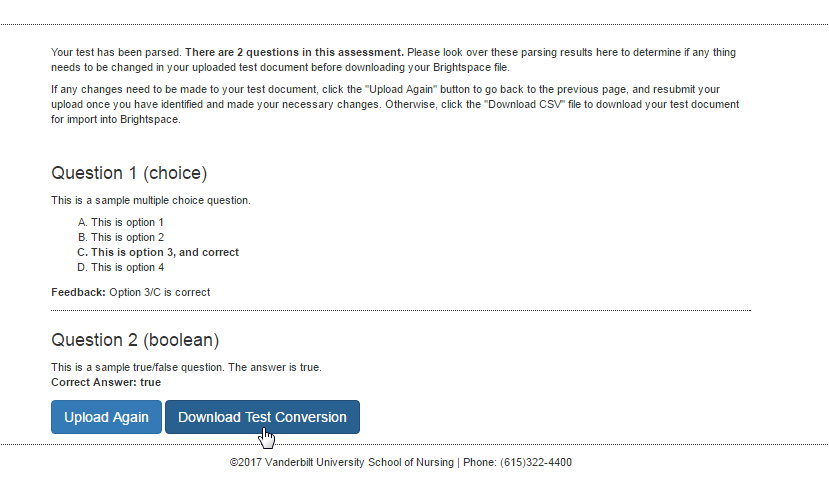 Step 6
Once any corrections have been made and your test conversion is ready:
Click Download Test Conversion to download the CSV file that was created for your upload.
The CSV file will have the same name as your uploaded document, but with a .CSV extension.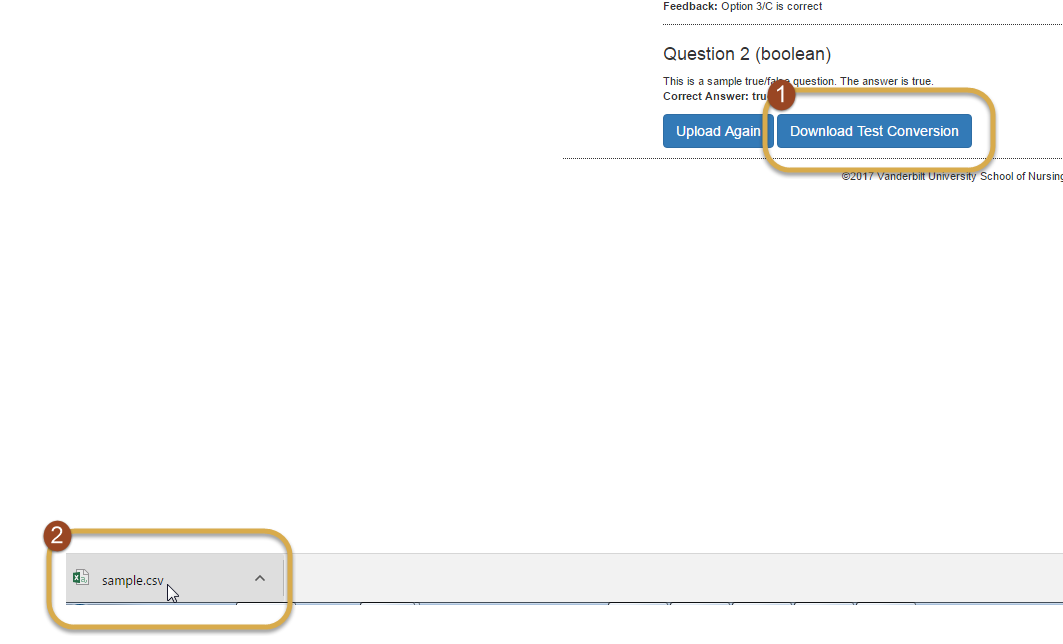 Step 7
After downloading your .CSV file, log in to Brightspace and create a new Grade Item for the quiz. Instructions for how to create a grade item can be found here.
Step 8
Navigate to the Quizzes tool, and click New Quiz

Step 9
Create the quiz
Enter a Name for the quiz
Click Add/Edit Questions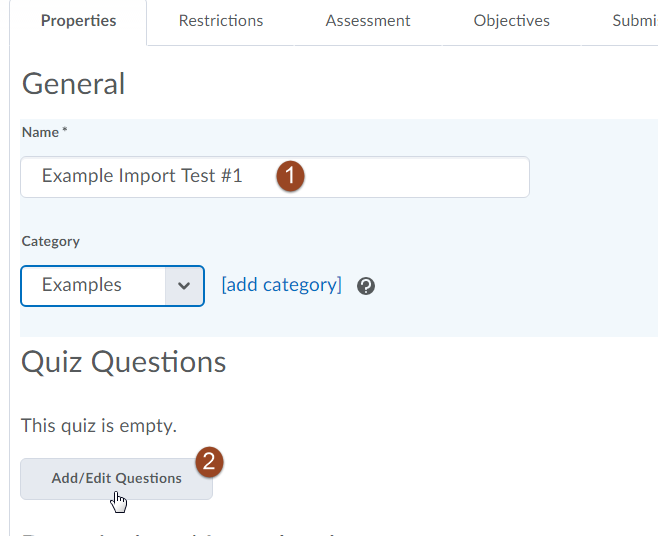 Step 10
Click Import

Step 11
Import .CSV file
Change Import Source to Text Format File
Click Choose File to locate the .CSV file you just downloaded from the converter
Click Save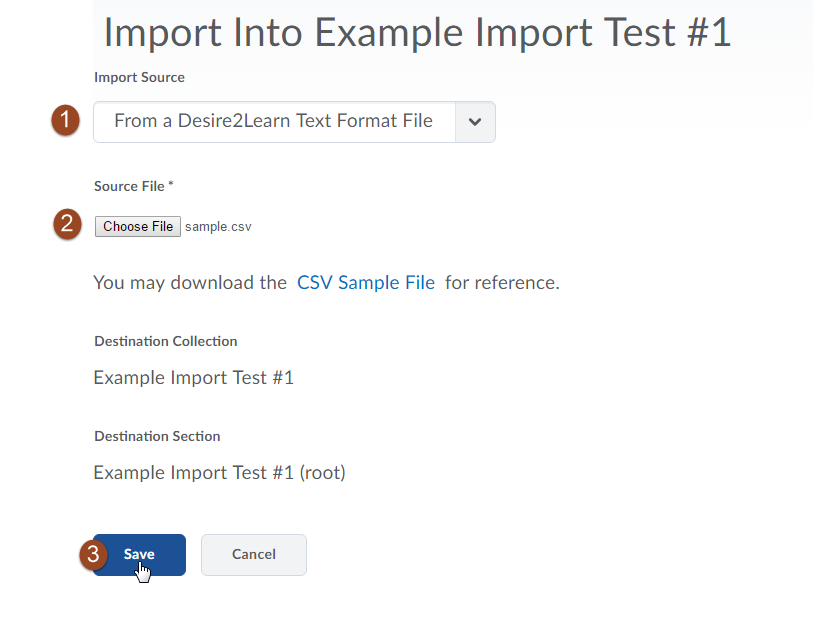 Step 12
Your questions will be imported.  From here you can click on an individual question and edit it in place if further editing is required.  For instructions on editing quiz questions, click here.

Step 13
Click Restrictions
Change Status to Active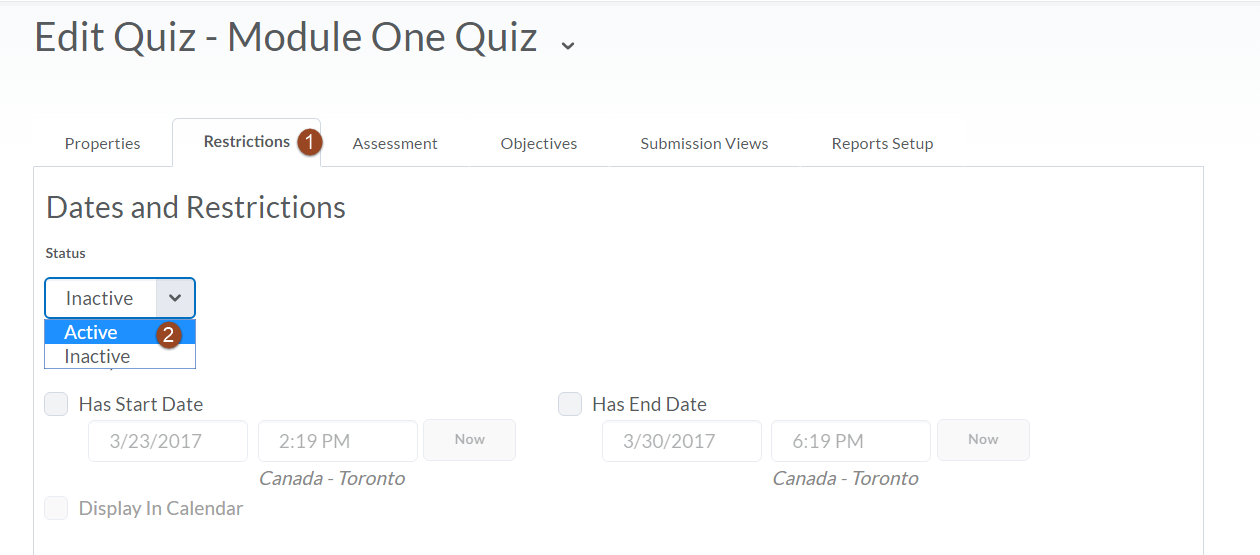 Step 14
Set quiz to be automatically graded
Click Assessment
Check box next to Allow attempt to be set as graded immediately upon completion
Click Save and Close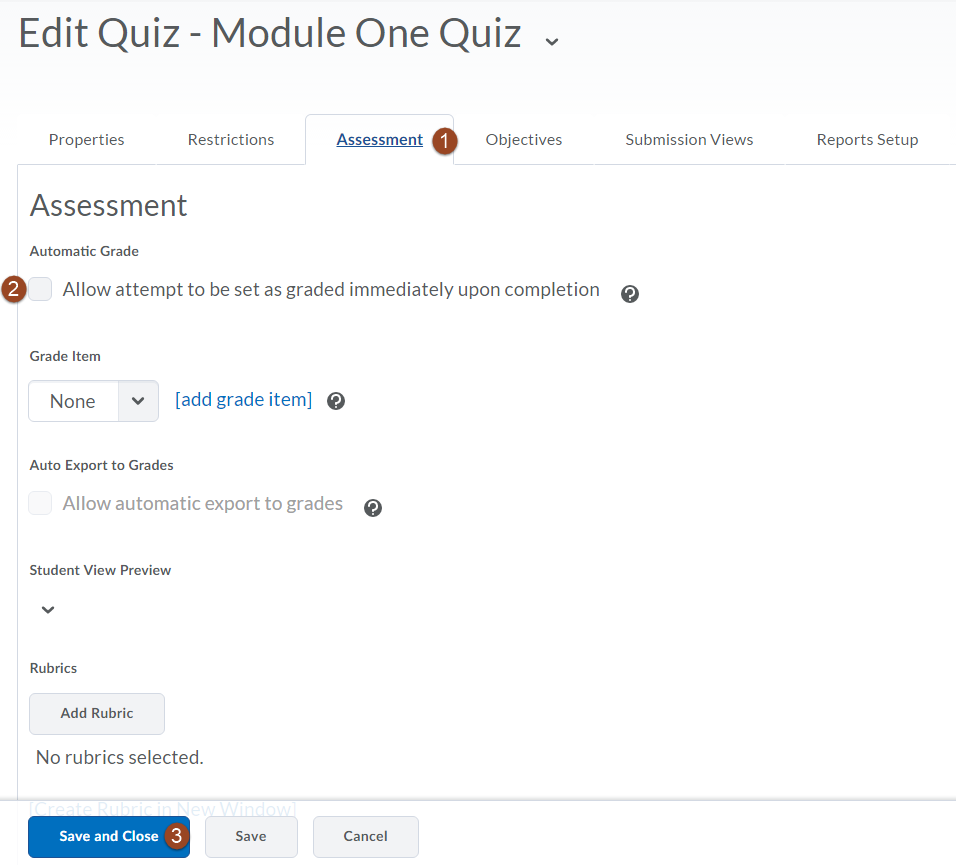 Related Articles