The purpose of this article is to show you how to set your default playback and recording devices with your Windows 10 computer.
These settings will help you set your default devices for Skye for Business, Microsoft PowerPoint, Camtasia, or any other programs that require audio.
Step 1
In the bottom right of your screen locate the Sound icon, right click on the icon and select Playback devices.

Step 2
On the Playback tab, be sure to highlight the device you wish to hear sound, right click that device and select Test. You should hear sound for that device. With your preferred device Highlighted, click Set Default.
Step 3
From the same window, click on the Recording tab. Here you will find the list of recording devices your computer recognizes. As you speak into your mic, you will see the green bars out to the side illuminate. Highlight your preferred recording device, then click Set Default. Click OK to close the window and save changes.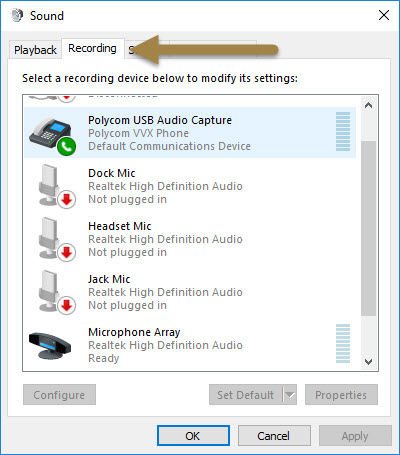 Related Articles